I just found clever files because I used the "About this Mac" > Storage > Reduce Clutter> Manage ... I did that because my Big Sur TM incremental backups are painfully slow and was trying to learn something about possible fixes.
I would like to access some of the mp4 that have strings out about 25 letters and numbers. I have no idea why they are in my system>etc etc. I cannot see them using the Finder. I'm assuming they are hidden, but I don't recall the secret in seeing hidden files. Can someone help me figure this out?

I dragged a couple to my desktop. I see them, but when I click nothing happens. I'm now using BigSur where apparently Apple has decided that APPLETV is the only way to view your own files (like they screwed up iTunes). These aren't full length movies, tv shows, purchased, rented, shared... they are things I have created using iMovie (And can't WAIT to use iMovie now in Big Sur and see where that takes me.
Then, there are these: Quicktime, .mov, m4a that give me these messages.
Are these all saved someplace else (on my Externals, in iMovie, in projects) and these are just garbage that can be deleted? Or, is this one of those *See Footnote, exception, hurdle, hoop whoops if deleted.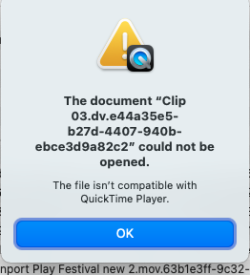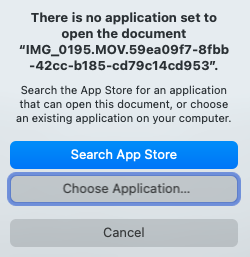 So, what's going on here? There is quite a chunk of storage space being used and I can't apparently do anything that Big Sur suggest I do. Delete causes spins. Rename isn't allowed. Get info just tells me the info. And there are documents, remnants. I really would rather not spend months trying to see these and remove them.
Last edited: