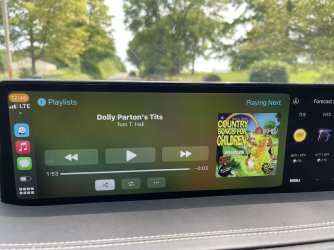 Problem. My new car (Genesis GV80) shows the song and album art with Apple CarPlay on the screen. All of my music is on my Mac (MBP 2021 16") in Music, then sync'd to my iPhone 12 Pro Max. CarPlay mirrors what is on the phone.
Album art comes from Music (and prior to that, iTunes)
Problem is, many, but not all, of the album art is wrong. Absolutely no idea how it got "discombobulated". Tried to refresh thru Music, but that didn't work.
Any idea how to correct?
Here's an example. (If this is offensive, I will remove pic, but I thought it was funny in a whacky sort of way!)