My system is what it is in my signature. The Int-HD is a Seagate 1TB SSHD (Solid State Hybrid Drive) SATA 6Gb/s 64MB Cache if that helps. I back up everything on two clones so all is safe.
Out of the blue I receive an error from my
Disk Warrior
"missing resource."
Boot to a clone to check things out I inspect the drive/volume first
TechTool Pro 8b
: no problem with HD or the volume.
No Problem.
I then use
DiskWarrior
which gives the same error when I try to "SMART" test the drive. Hmmmmm . . .
Disk Utility
gives the following: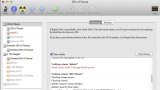 Before this time, whenever I felt the need to check things, the
disk0s1
is grey and checks out. I one of my clones attached at you can see its
disk2s1
which does check out fine.
Otherwise, everything is fine. All of the other parts test out fine.
Snooping around the Interwebz I find this may be the EFI partition and not a lot of advice about it.
So . . . should I care?
I suppose I could wipe the Int-HD and just rebuild everything from my clone, but if I do not have to do that, I would prefer not to waste the time doing it.
________
For the hell of it I decided to try
El Capitan
as in my signature now. While every thing seems to be find apparently the EFI partition was not fixed.
--J.D.
Last edited: