Hi, new member here. I searched after finding this thread using Google:
http://macosx.com/forums/hardware-p...rt-not-charging-battery-macbook-pro-13-a.html
But there was no answer in that thread and I can't find a similar topic.
MBP, Penryn, with the Magsafe barely glowing green (can only see it in the dark), and it will not go back into charge-mode.
I did dribble perhaps a teaspoon of milk across the arrow/shift/enter keys a day or three before, but nothing happened until I untethered the Magsafe to move it, then when I plugged it back in here's what I have:
iStat battery indicator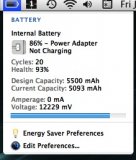 System Profiler

Note that the AC charger (Magsafe) is recognized as connected but nothing else. There are normally values here for the Magsafe.
--
The screen dims when unplugging the Magsafe, as well as brighten when plugging it back in.
The battery has been at 86% for going on 24 hours, but will drain when I pull the Magsafe off.
Machine will NOT boot with just the Magsafe (battery removed); I must have the battery installed to boot. I went ahead and ordered a new Magsafe, but from what I'm reading, that looks iffy.
Any ideas?
TIA