Mac of the SubGenius! :-)
Here's an interesting article from Ars Technica
about the iPod's design...specifically, the iPod mini.
Apparently history does repeat itself. See below at what I mean.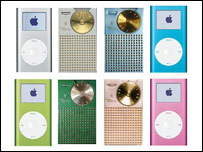 Here's the BBC article
that tells the whole story, and
here's a site dedicated to the Regency TR-1 transistor radio
.
Now if only I could find one of these babies to match my silver iPod mini....