Anyone like my best shot at a descriptive title? I thought I'd deviate from the go-to phrase "HELP ME, IT'S BROKE". I tried searching for help with this, but I believe it is so abstract of an issue that the almighty google doesn't even know what I'm talking about. They say a picture speaks a thousands words; I took a screenshot. Any suggestions on how to make them go away would be greatly appreciated.
https://www.dropbox.com/s/h2cjeo9f7oumjur/Screen Shot 2013-07-29 at 11.58.05 PM.png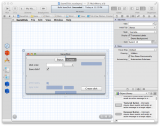 For full disclosure:
* Macbook mid-2010 model
* OS X 10.8.4
* 2.4GHz C2D
* 8GB RAM
* 500GB HDD
* Xcode Version 4.6.3 (4H1503)
Apples's developer forum is down right now or else I would be asking there also.
Last edited: