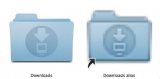 Fuzzy desktop icons
I have been having problems where some of my desktop icons (usually folder icons) are fuzzy. I posted this on the Apple forums but did not get a solution.
I have done the following:
Reinstalled Mac OS.
Removed all login items
deleted com.apple.finder.plist
rebuilt the launch services data base
deleted the .ds restore files
repaired permissions
What does work is:
Using a different user account.
Booting in safe mode.
Any help would be appreciated.