Greetings Community,
While setting up notifications for CCC I noticed this unfamiliar application under it called "Digital Trends".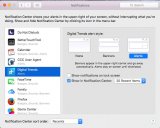 I obviously downloaded something that allowed this (I suspect Google Chrome), but don't know what it is, and have never seen a notification from it. It doesn't appear in my applications folder either, and in scanning the contents of: Finder>Go+⌥ >Library, I couldn't find anything obviously related to it either.
Does anyone recognize this, and can tell me how to find and remove it please?
I'm using OS X 10.11.6
Thanks in advance.