Hi Guys
for some reason i have no clue about, my trusty iPhone 3GS has started showing these lines or stripes horizontally across its screen.
in everyday use they don't REALLY interfere but they ARE annoying & i'm afraid if left unattended they might develop into something worse ?
if the screen background is clear ( white, tray, etc.. depending on app used ) the lines display as black & vice versa - very odd....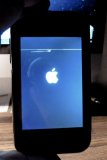 as you can see on the attached photo, i chose to photograph the iPhone's screen just before it disconnects so you can clearly see the lines
does anyone have ANY idea why this is happening ? & how to cure it if possible...
any help will be VERY welcome, many thanks in advance
cheers
Nuno