I was finally able to get Big Sur on the MacMini (2014).
The backup is 713gb.
I had to get a different external drive, after having fought for a week with the Partitioned APFS 2T ED that was so painfully slow.
I gave up on that one and reformatted the ED that had been the TM B/U with Mojave on it. After about 8 hrs, it was at about 565gb so that was good. I had set the Energy Savings to not go to sleep when the display sleeps; allow for network; allow for power napping; don't go to sleep whenever there is inactivity. Off to bed.
Part two:
This morning, the original back up is done. As has been the case since upgrading the Big Sur, the MacMini is really hot (I've put it on four old cassettes that I've created a tower for air circulation). I shut down for a couple hours just so it could cool down.
I've been on now for about two hours (see updates). Getting toasty, and we have this.
So, here's a question: Just how is this TM supposed to backup every hour if it takes two hours to do 240mb?
And, yes, I've used TM since it was first introduced. So, not my first rodeo.
What's going on here? I've scoured the inner web and read all kinds of theories, and terminal look-sees, and reboots and "make sure's" and that's when I thought, "hm.... maybe I'll start fresh."
Any insights would be helpful. Is there a simple setting? It's not backing up any External drives either, if that helps. It's a head scratcher. (And I did read that Big Sur and TM do things a little differently than in the past ... but, the $64000 question is: And should I be concerned?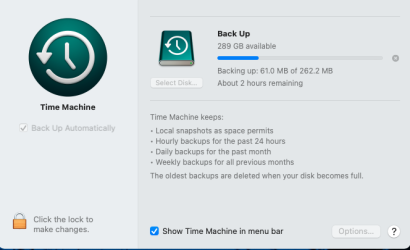 Since starting to write this post, about 10 minutes ago:

PS Here is the history of backups. It's noon. It's just now doing this backup. (Now, granted, there was no activity either).

Last edited: